Damisol® 3041-2 HIR /300
Base : 2 Components unsaturated high temperature resistant polyester resin.
Yellowish, transparent resin with Damidil 9117 as reactive diluent hot curing with good permanent temperature properties for electrical insulation systems up to and including Class H.
UL class H E98511
Mainly designed for trickle, Roll through or continuous dipping application on heavy duty powertools, vacuum cleaners and any highly stressed electrical components. Produced in China.
Key Properties
Highly reactive trickle resin
True class H
Excellent & durable mechanical properties
High flexibility
Class H, UL E98511
Details
| | |
| --- | --- |
| Chemical Base | Polyester |
| Viscosity 23°C | 300 ± 50 mPa.s |
| Application | Rotating Machines < 1kV |
---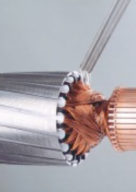 Brochure
Impregnating Resins & Varnishes
Download