Damival® 15350
Two part class H (UL1446) epoxy resin, black, curing at room temperature with high thermal conductivity properties. Class H also according to weight loss measurements (IEC 60216), UL94 V0 approved. Black color.
Key Properties
Two components Class H (UL 1446) black epoxy system, ambiant curing
Low viscosity
Excellent thermal conductivity
Self extinguishing, UL94 V0 approved (E 108253)
Halogen free, RoHS compliant
EN 45545-2 certified: HL2 for R22 and HL3 for R23.
Details
Chemical Base
Epoxy
Mix viscosity 23°C
2300 mPa.s
Application
Electrical components
PCBA and sensors
Rotating Machines
Transformers
Coils

Operating Temperature
<100°C, 100 – 150°C, >150°C
Potting Hardness
87D
Thermal Conductivity
0,8 W/m.K
---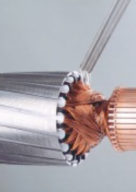 Brochure
Impregnating Resins & Varnishes
Download