DOLPHON® 1107
Soft casting epoxy filled system, that meets the requirements of UL94 V0. It is suitable for the protection of electrical and electronic devices and components against moisture and mechanical shocks. Black color.
Key Properties
Room temperature curing.
Very good resistance to thermal shocks.
Very low shrinkage after cure.
Non-abrasive, suitable for use in dispensing machines.
Good thermal conductivity.
Good electrical properties.
High flexibility.
Self-extinguishing, UL94 V0 approved (file QMFZ2.E513702).
Details
Chemical Base
Epoxy
Mix viscosity 23°C
3000 mPa.s
Application
Electrical components
PCBA and sensors
Transformers
Coils

Operating Temperature
<100°C, 100 – 150°C, >150°C
Potting Hardness
40D
Thermal Conductivity
0,9 W/m.K
---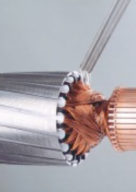 Brochure
Impregnating Resins & Varnishes
Download