Damival® U600
Two parts flexible polyurethane encapsulating compound, polybutadiiene type, highly flexible, very hydrophobic, very low hardness. Black color.
Key Properties
Highly flexible, good thermal shock resistance: passes over 30 cycles.
Hydrolytically stable (100°C. and 95% R.H.), very low moisture vapor transmission
Excellent electrical properties: minimal change throughout temperature range.
Repairable: components may be removed and replaced.
Low shrinkage, low stress cure: will not damage delicate components.
Easy mix and pour: hand or automatic dispensing.
Room temperature cure: cures readily in thick sections or thin layers.
Details
| | |
| --- | --- |
| Chemical Base | Polybutadiene |
| Mix viscosity 23°C | 3500 mPa.s |
| Application | PCBA and sensors |
| Operating Temperature | <100°C, 100 – 150°C |
| Potting Hardness | 40A |
| Thermal Conductivity | 0,4 W/m.K |
---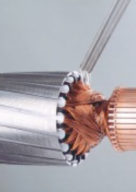 Brochure
Impregnating Resins & Varnishes
Download