Damival® E110
Two part epoxy resin, black, curing at room temperature with high thermal conductivity properties, UL94 V0 approved. Low mix viscosity.
Key Properties
Excellent resistance to thermal cycles,
Good electrical properties,
Good water resistance,
Self-extinguishing: UL94V0 approved 4mm (file E317428),
Suitable for application up to 180°C,
Included in UL Insulating System 155°C: E317429, DV-155J table IX & XI,
Good thermal conductivity,
EN 45545-2 certified: HL2 for R22 and HL3 for R23.
Details
Chemical Base
Epoxy
Mix viscosity 23°C
2000 mPa.s
Application
Electrical components
PCBA and sensors
Rotating Machines
Transformers
Coils

Operating Temperature
<100°C, 100 – 150°C, >150°C
Potting Hardness
85D
Thermal Conductivity
0,8 W/m.K
---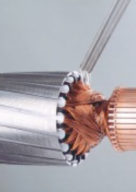 Brochure
Impregnating Resins & Varnishes
Download