DOLPHON® CB-1128
DOLPHON® CB-1128 is a unique flexible compound curing into a tough, resilient, glossy black coating that seals against moisture and chemicals attacks. DOLPHON CB-1128 is exceptionally resistant to abrasion because it absorbs the impact of flying metallic particles. Can be applied by brushing or spraying and cures to form a protective seal coat.
Key Properties
· Elasticity that absorbs impacts and resists abrasion.
· Good thermal conductivity helps offset overheating.
· Superior resistance to water and moisture vapor transmission.
· High-low temperature flexibility that prevents cracking.
· Excellent resistance to chemicals attacks including acids and alkali.
Details
| | |
| --- | --- |
| Chemical Base | Polybutadiene |
| Viscosity 23°C | 100000 mPa.s (cps) |
| Application | Rotating Machines |
| Color | Black |
| Drying process | Ambient |
---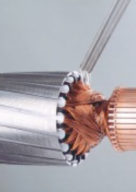 Brochure
Impregnating Resins & Varnishes
Download